The story of Ian Hope's 'Back Yard Museum'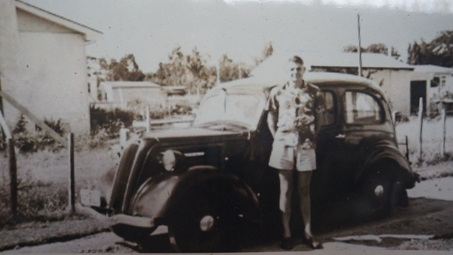 Many New Zealanders have fond memories of their first car - a 2nd or 3rd or even 4th hand jalopy that seemed to go forever on the smell of an oily rag and take us to exciting and exotic locations like the river, the beach or the local park-up.
It would be a fairly safe bet that for anyone now over 40 years of age, that first vehicle would have been a British make. Austin, Morris, Triumph, Vauxhall .... these are the brands which gave us our first heady sense of freedom and maturity.
Small wonder then that Ian Hope's Backyard British Car Museum on the road to Te Awanga is attracting such a wide range of patrons. Inside the massive storage sheds, Ian has collected over 400 cars, 80% of which still run. "My Aunt and Uncle had a Morrie Minor which I looked after while they were alive", Ian says. "When they passed away in 1986 it was sitting in the Hawkes Bay sun deteriorating and my cousins moved to Australia. I bought the old car to 'do up' for my first great nephew, so he could have it when he was old enough. That was the start of it. Now I have 20 great nieces and nephews - and I have a Morrie Minor for each of them!"
---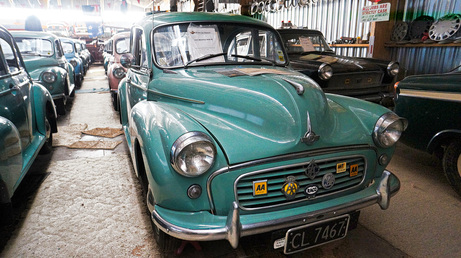 In fact, Ian has 38 Morris Minors on display including 'ute' and station wagon variants - and that's just the tidy ones! "I have about 70 all told, some of which are only useful for parts and so on" Ian added. Over the last 28 years Ian has unearthed a huge variety of cars, mostly from the local Hawkes Bay area. As might be expected, he was a mechanic by trade, starting with Baillie Motors in Hastings.
"I moved out to Hibbert and Mathers in Havelock North who had two petrol stations then. When Baillies bought them out, I decided to go on my own and built the garage in Te Awanga Village, operating it for more than nine years. I used to mow the lawns around these sheds when they were still the K Pack Packhouse. In 1998 when they became available and my car collection had grown considerably, I was able to buy the property to house the cars. Since then I have doubled the size of the covered area."
Many rows of cars are on display and enthusiasts could easily get lost among the vehicles. Little rounded A30s stare at the sleek lines of two Jaguars - a 2.8i auto and a 1982 XJS HE 12 cylinder model. There are three hearses, Vauxhalls, Hillman Minxes, Triumph Heralds and 2000s, Oxfords and Princesses, Rovers and even a 1923 Dennis Fire Engine used by Hastings Fire Service at the time of the Hawkes Bay Earthquake Disaster in 1931. The hand-cranked siren is still attached and Ian encourages children to wind the handle for fun!
---
| | |
| --- | --- |
| | Ian has also collected and been given all sorts of auto memorabilia and paraphernalia including books, AA car badges, AA road signs and street names from the local area, petrol pumps and car number plates. One remarkable book is the original ledger used by the New Zealand AA to record members' details back before computers (see pictures). |
Ian's personal favourite
"It would be hard to go past the Mini Austin 7 (right). I bought it new in 1963 for £731. It is one of only two brand new cars I have ever owned, and was a beauty.

My second - many years later - was a lovely 2003 silver Jaguar S-Type, which has covered only 8,000 kms from new" (pictured).

Naturally, Ian still has them both in his 'Backyard Museum'.
Why does he do it?
If you find yourself wondering what inspires Ian to devote so much of his time, money and effort to his collection, there are clues around the museum if you care to look. From the 20 Morris Minors individually labelled as heirlooms for his great nephews and nieces to the discreet notices pictured below ...... it's all for love, of course.

When you meet Ian, remember that. We all reap what we sow.
Click on images to view full size
---
Based on and incorporating sections of an article originally published in the Havelock North Village Press in 2003